Event Summary: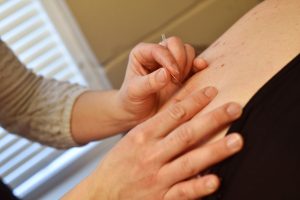 Dr Elisha Cook ND is offering an acupuncture clinic to provide reduced fee for service for individuals without naturopathic coverage, limited funds, and to give a bit of a break to all patients and individuals for some of the fees. This acupuncture clinic is for anyone who is interested and would like to try acupuncture. The cost per treatment is $30 per person. You do not have to be an existing patient of the clinic to participate. This is on a first come-first serve basis as spots are limited, but we will be able to accommodate walk-ins as much as we are able (though pre-registration is appreciated).
Book your spot by messaging us on facebook, calling or texting us at 226-232-7665, or emailing us at info.pnhc@gmail.com.
Event Details: 
When: Friday August 16, 2019
Time: 3:00PM – 6:00PM
Where: Plattsville Natural Health Clinic 16 Albert St Unit A Plattsville ON N0J 1S0
Cost: $30
Pre-registration is appreciated.
How to Register/Book your spot: 
Call or Text: 226-232-7665
Email: info.pnhc@gmail.com
More Information:
For more information regarding this event, please follow the following link:
https://www.facebook.com/events/352476672115440/
For more information on how acupuncture may benefit you, please see one of Dr. Elisha Cook ND's previous posts on how acupuncture works:
https://www.plattsvilledoctor.ca/how-does-acupuncture-work/